If you're not sure what this ebook thing is all about, or how it works, read on. I've put these notes together to give you a bit of perspective on the deluge of ebook news. They're updated from time to time but it's a fast-moving field and a few things will have moved on and new products will have appeared. While it's probably a bit heavy-going in parts, it will introduce you to some of the main ebook issues.
What is an ebook?
Gadgets to read ebooks
Where to find ebooks on the net
Rights and Digital Rights Management (DRM)
Tower of eBabel – the plethora of Ebook formats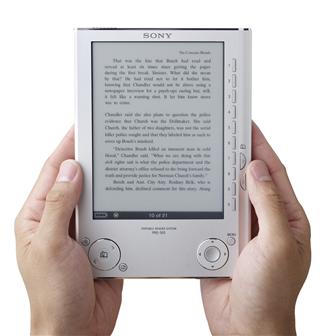 What is an eBook?

The term "ebook" refers to a book produced in an electronic format. Among the most common formats are the ubiquitous PDF (portable document format) from Adobe and plain text files that can be read in any word processor. But as often happens in a technology market, there are many competing formats vying to become the standard. So an ebook that can be read with one device may be unreadable in another. Thankfully, an open, industry-backed format called "ePub" has emerged that looks set to become increasingly important. The entry of major players such as Amazon and Google is doing a lot to popularise the market and introduce more people to the ebook reading experience.
Gadgets to read your ebooks
The ordinary PC or laptop is probably the most common ebook reader. A few gadgets have been specifically built to read ebooks but most are generic, for instance PDAs (Personal Digital Assistants such as the Palm or Blackberry), or high-end mobile phones, the so-called smartphones. The one that's causing the most buzz is Apple's iPhone which has already attracted several ebook readers since it opened up to third party software developers. The leading ebook reader for the iPhone is Stanza from Lexcycle. Don't underestimate
mobile phones – in Japan, mobile phone novels, designed to be downloaded in installments, have become a publishing phenomenon. Half of Japan's top 10 bestselling fiction for 2007 originated with novels that began life on mobile phones. A company called GoSpoken is bringing ebooks to a wide range of mobile phones.
Many specialised ebook readers use a reasonably mature screen technology called e-Ink which has been designed to mimic the appearance of ink on paper. Like paper, but unlike computer screens, it's easy to read in sunlight and can't be read in darkness. And its power consumption is low so you can read several books on a single charge. They also typically mimic the book in size, approximating the dimensions of a small paperback.
Most of the action in this market has been focused on the US where it is still a (relatively) tiny market. Until it gets traction
there, the key hardware players will be reluctant to sell into smaller markets like New Zealand or Australia. Sony with its US$299 Reader (left) has been one of the most active ebook manufacturers to date. It launched its first model of the Sony Reader into the US market in late 2006 and now sells its ebook reader in the US, the UK and some other markets. The Amazon Kindle (right)
launched in November 2007. It sells for US$399 [Update: US$139-189 as at August 2011] and has understandably stirred a lot of interest though like the Sony Reader it is focused initially on the US market. The Kindle has been designed so that users connect (wirelessly) to the company's own Kindle online store to buy and download ebooks. Though it provides access to ebooks from other sources, it is somewhat limited and less convenient. The Sony Reader began with a similar set-up in which only ebooks downloaded from its own Sony Connect store will work with its Reader. It is now moving away from this proprietary approach in favour of a more open reader platform and partnerships with established booksellers such as Waterstones in the UK.
The close coupling between hardware and associated online ebook stores is one reason that ebooks are likely to remain US-centric for a while. We only have to look at how long it took Apple to open a local version of its iTunes music store (six years after the US launch) to get an idea of how long it might take to reach small, far-away markets. As well as simply the small size of the market, I'd guess the issue of managing territorial rights – often a complex business with books – pushes these decisions further down the priority list than they might otherwise be.
But all is not lost if you're outside the US. There are quite a few websites that carry ebooks or specialize in them, supplying them in a wide range of formats that will run on available hardware such as PCs or smartphones.
Of course, the standard PC or notebook is still probably the most common and versatile platform to read ebooks but it scores low-to-zero in the comfort, portability and "book experience" ratings. It might be another watch-this-space, though, as a new breed of small, cheap, portable computers arrive called 'netbooks'. Asus has been a pioneer here with many others climbing into the market as growth for the category accelerates.
Where to find ebooks on the net
The granddaddy of online ebook stores is Project Gutenberg, a long-running attempt to convert a huge part of the world's books into electronic format. It's a non-commercial, volunteer-driven project. For the most part it takes a simple "lowest common denominator" approach to the technical issues of formats and rights management: it's not very elegant but it's all delivered in simple text, it's unencumbered with digital rights management (see below), and it's all free. The Project focuses mostly on books that are out of copyright and, between its own catalogue and those of various partners, has 100,000 ebooks.
Among the major players, are:
– Amazon.com – Kindle – This is the Amazon ebook store dedicated to its Kindle ebook reader (US only at launch but now accessible from most countries. Ebooks require Kindle or Kindle app to work).
– Kobo – kobobooks.com – Launched in early 2009 under the name Shortcovers, this Canadian site is rapidly globalising its catalogue and is proving to be a great supporter of the ePub format and of a wide range of mobile devices. In Australia and New Zealand, it's represented by the RED Group, owners of the Whitcoulls, Borders and Angus and Roberston book chains. [Update: The Australia and New Zealand markets have seen some turmoil with the failure of the REDGroup but Kobo is still available via  Whitcoulls in New Zealand. In Australia, it's available via the Angus and Robertson online store, now owned by Pearson].
– Barnes and Noble Nook. America's biggest bricks-and-mortar bookseller has also produced a credible competitor to Amazon's Kindle with its Nook range of ebook readers and the Nook ebook store. Unlike Kindle, Nook will read ebooks that are in the industry standard ePub format.
– eBooks.com – an Aussie company that was clever enough to grab the ebooks.com domain name 10 years ago (but not clever enough to have also grabbed ebook.com). It has now amassed a collection of some 100,000 ebooks in various formats including Adobe, Mobipocket and Microsoft Reader. They've also developed their own eb20 format which allows ebook previews and full ebooks you purchase from eBooks.com to be read online or offline with an ordinary browser (no special reader software required).
– FeedBooks – an interesting site that focuses on ebooks that are free or licensed under the open Creative Commons license. It allows you to download ebooks, build your own lists and share those lists with others, or to create your own ebooks, custom newspapers and other bits. One of the first large-scale supporters of epub format (see below).
– Smashwords.com – a site for self-publishers that makes it easy to create and sell you own ebooks in the epub format. The site has very author-friendly terms.
– eReader.com – makes and sells ebooks for handheld devices, especially Palm and Pocket PC, also PC and Mac computers. They're read via the free eReader software. eReader was bought by Fictionwise, one of the biggest commercial ebook sellers, in January 2008, then bought by US bookseller Barnes and Noble in July 2009 to form the basis of the Barnes and Noble ebook store. The Fictionwise store also powers the ebook store for the Stanza iPhone ebook reader from Lexcycle.
– Mobipocket.com– An Amazon business, Mobipocket produces ebook reader software using its own Mobipocket format for PDAs, PCs and high end mobile phones. Amazon's recent launch of its own eReader hardware, the Kindle, has led to some questioning about the long term plans for its Mobipocket initiative but in spite of that, the format is well developed, based on some widely used standards, and has a slick (free) ebook production tool.
– Sony Connect – the ebook store within Sony's connect.com site. The site also includes sections for Playstation games and for music downloads, a good indication that to the big media companies, digitised books will be just another medium to add to the catalogue. The ebooks sold from this store only work with the Sony Reader. See above. Increasingly, Sony is moving away from a strategy of being an ebook seller to one of forming partnerships with other booksellers.
Rights and Digital Rights Management (DRM)
Publishers understandably are keen to protect their books from being wrongfully sold or copied. But books are also notorious for complex slicing and dicing of rights into different territories and a multiplicity of other interests such as audio, performance, film, extract rights, etc. Managing these rights is going to create some challenges as they move into the ebook world with its potentially borderless distribution and, no doubt, a few disputes caused by rights overlaps brought to the fore by this medium.
A hot topic in the media world (not just among ebooks) is Digital Rights Management (DRM). It's becoming more pressing as media that are not traditionally advertising-supported move to the web. Music, movies and, yes, books fall into this category. DRM's aim is to protect a publisher's product from unlawful copying while not impinging too much on the consumer's rights to use their digital product in a convenient manner, including using it on different devices they might legitimately want to access it with, now and in the future. It also seeks to enforce territories or other rights that might have been on-sold to multiple different publishers so that they can operate within the markets assigned to them.
Various technology approaches are being advocated. Like any software-based solution, the DRM built into the product you buy has to be read and interpreted by the device used to read it. This gives rise to the problem that a digital product bought to run on one device won't run on others, limiting its usefulness and long term value to the consumer. For instance, books produced in Microsoft's Reader format can be protected using the DRM provided by Microsoft Digital Asset Server (DAS). But that ebook won't be readable in any device that doesn't directly support Microsoft Reader, limiting the purchaser's options for reading it and, almost certainly, making it unreadable at some point in the future when the technology has long been superseded. [Update: Microsoft Reader will be discontinued from 30 August 2012]
Apple has successfully implemented its own DRM system in its music store iTunes but it has done this by tying the downloaded music to its own popular iPod music player so that it can't be played on any other devices. [Update: From March 2009, Apple dropped DRM from its music downloads.] The idea of tying the reader hardware to its maker's own store is appealing and some ebook players are looking to emulate this model. Sony took this approach with its Reader and its Sony Connect ebook store (though it is moving to a more open approach, actively working with other retail partrners) and the new Kindle from Amazon has been built to ensure users connect to Amazon's own ebook store. If this trend dominates the ebook market, it's likely to mean small countries like New Zealand will wait quite a while before they come here. Apple's iTunes store provides a good indicator – it came to New Zealand seven years after it was launched in the US.
The complicated mess that is the DRM landscape today is adding impetus to those who say that the best approach to DRM is to have no DRM at all. Most of the internet media is already free, fueled largely by advertising. The problem for books, of course, is that they haven't been advertising-supported at all in the past and it's likely that advertising will remain at best a minor part of their funding mix in the future.
The Tower of eBabel – ebook formats
Wikipedia's article on this subject lists two dozen format options for ebooks. You can see this is something of a minefield to navigate and, until it's shaken out, will continue to be a barrier to widespread consumer adoption of ebooks – the so-called Tower of eBabel problem.
Epub (.epub file format) – a new open standard for production and distribution of ebooks, in particular re-flowable ebooks that can automatically reformat to produce readable output on different screen sizes. It's the work of a widely-supported industry group called the International Digital Publishers Forum (IDPF) – and it looks like it might have the momentum and technical capability to serve as a broad standard for ebooks. This will be great news for consumers if it can be achieved and means we finally may have the potential for a format that can be widely supported by hardware providers and publishers. Since its technology underpinnings are based on XML, a widely used standard in the internet world, the likelihood of it being a technology dead end is reduced.
The standard is still pretty new (late 2007) so user-friendly tools to produce epub-compliant books, and devices to read them, are still being developed. Adobe is among the earliest developers to announce support for .epub creation via its InDesign CS3 or CS4 page layout program, which will provide a familiar production environment. Other tools are Calibre and Adobe's online document editor Buzzword. Adobe Digital Editions will read epub formatted files. Bookworm allows you to read your epub ebooks straight from your web browser. And Stanza is a great epub reader for the iPhone. (If you have an iPhone or iPod Touch, go to the App Store, Search for Stanza and download it, it's free. Once you've installed Stanza, you can access a lot of free and paid ebooks via its Online Catalog.)
Amazon Kindle (.azw file format) – Amazon.com's proprietary format, based on its Mobipocket format, is the preferred format for Amazon's Kindle reader. It is protected with Amazon's proprietary DRM technology. The format is not supported by any non-Amazon devices but Amazon has ported its Kindle reader software to Apple's iPhone, Google's Android and other widely-used devices.
PDF (Portable Document Format) (.pdf file format) – Adobe's ubiquitous format has become the de facto standard for document distribution so its widespread use in the ebook world is not surprising. It's very good at reproducing the appearance of the page, including complex graphic layouts as well as straightforward text. And, of course, the free Adobe Reader software is available on numerous devices from computers to portable devices. Adobe also allow publishers some basic levels of protection for their documents such as disallowing printing or copying, even a self-destruct option which causes the document to expire after a set period of time. But PDF also has some limitations which impact its usefulness for ebook applications. Chief among them is bloat – the tendency of software to get bigger and more complex as it advances through new versions. Its generally large file sizes can use up precious storage and processing power in mobile devices; and it's limited in its ability to "reflow" to suit different screen sizes (anywhere from a couple of dozen to 100 or more characters wide), an important issue in the ebook world where the same ebook might be viewed on a large computer screen or a small mobile phone screen.
Adobe Digital Editions (PDF/A and .epub file formats) is Adobe's new (June 2007) attempt to answer some of these deficiencies of PDF plus add some new ones specifically aimed at ebook reading. The Digital Editions reader is a bare-bones, stripped-down version of Adobe's standard Reader product (eg, it has no collaboration features) and is operated with simple controls that are optimised for basic reading tasks such as page turning, scrolling, changing the size of typefaces, and organising ebooks into a "library" for easy storage and retrieval. Adobe will be offering DRM through its own "hosted" service – that is, the service will run on Adobe's own computer servers on the internet: you won't be able to run it yourself. This will allow Adobe to clip the ticket on a big chunk of the ebooks sold if it gets the kind of support it's hoping for among ereader hardware manufacturers (Sony has already announced Digital Editions support for a future Sony Reader), e-bookstores, publishers etc. While Digital Editions is Adobe's proprietary technology, it's one of the first commercial products to announce full support for the digital publishing industry's own open ebook format, epub.
Mobipocket (.mobi or .prc file formats) – Amazon's "other" ebook standard, widely used with good reader support, great tools for producing Mobipocket-formatted ebooks, and a pretty solid XML-based technology foundation. Perhaps now that it has Kindle, Amazon will see its way to open-sourcing Mobipocket. See more info above.
Microsoft LIT (.lit file format) – the proprietary format recognised by Microsoft Reader software. As you'd expect with Microsoft, this format has quite a large following although it's seen surpisingly little development in the last five years. Go here and you'll see that the last press release on Microsoft's own Reader site was dated July 2003 (still the situation as at 25 July 2008) – never a good sign but probably about the time the bubble from the last ebook wave of hype burst. [Update 15 August 2011: Microsoft Reader will be discontinued from 30 August 2012 but ebooks purchased in that format will remain readable, according to Microsoft.]
eReader (.pdb file format) – a format aimed at mobile devices such as Palm Pilots and the iPhone. See notes above regarding eReader.com which also sells ebooks produced in this format. On 20 July 2009, it was acquired by US bookseller Barnes and Noble who plan to adopt the eReader format for their ebook store.
FBReader – this is an open source software project with its roots in the Linux/Unix development community. This tends to make it appear a bit techie and foreign to most people but the project is starting to get some traction as the FBReader software appears on more consumer-oriented devices. For instance, because Linux is free and a relatively compact operating system, it's the initial choice for the new breed of low cost laptops such as the OLPC XO. The FBReader software is also being ported to some of the dedicated ebook readers (the iRex Iliad being the first), supports a lot of ebook formats (including, soon, the open .epub standard), and is getting some good reviews. A version is also available for Windows XP and FBReader is the first ebook reader for Google's Android mobile platform.
Text/RTF. Simple, as open as you can get – you can read and create it in any word processor – and still useful though not a generally a suitable option for commercial publishers.
More to follow. This is a work in progress … check back from time to time. We'll add new stuff and try to keep the old stuff up-to-date. And feel free to comment.